First Presbyterian Church
Corner of Fourth & Alby Streets; Alton, Illinois

In Memory
Eldon Williams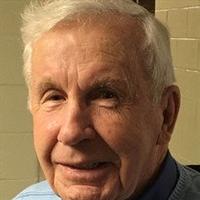 Eldon C. "Twirp" Williams, Jr., 87, passed away on Tuesday, October 16th, 2018. He was born on August 5, 1931 in Alton, IL. On July 25, 1991 he married Jackie Wohlert Williams. He was the son of Eldon C. Williams, Sr. and Patricia McGuiggan.
Mr. Williams was the Godfrey Tax Assessor for 40 years, a Realtor at Landmark Realty in Godfrey, a member of the Godfrey Village Board as well as a member of St Peter and Paul Catholic Church. Mr. Williams was also an Air Force Veteran.
He is survived by his wife, Jackie Williams, his brother Terry Williams (Cathy), 6 daughters, Jill Williams, Joy Phillippi (Jon), Jan Williams, JoEllen Archerd (Fritz), Jean Ann Parks (Brynner) and Jenny Kadow (Bill). His son, Jonathan Williams preceded him in death on December 14th, 1978. He is also survived by 2 step children, Doug Wohlert and Becky Branum.
Also surviving are several nieces and nephews, 11 grandchildren and 14 great grandchildren.
Monsignor Michael Muhr, from the dioceses of St. Petersburg, FL will officiate.
Burial will be at Valhalla Memorial Park in Godfrey. Memorials may be made to the Godfrey Park and Recreation Memorial or the 5A's Animal Shelter. Online guest book and information may be found at
www.gentfuneralhome.com