First Presbyterian Church
Corner of Fourth & Alby Streets; Alton, Illinois

In Memory
Grace Summers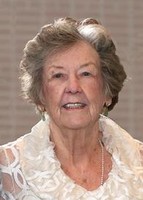 Grace Evelyn Summers passed away peacefully October 7, 2016 at the accomplished age of 91. She was born June 2, 1925, in French Lick, Indiana to Alma and Cecil Qualkinbush. She graduated from Indiana University with a degree in Social Work. She was a member of the Phi Mu Sorority. Upon graduation, she married her beloved, Billy Ray Summers, on September 16, 1950.
After marriage, she lived many places in her life including Japan, Connecticut and Florida, but was always proud to call Alton home.
With her life long commitment to volunteerism she served in the Red Cross, P.E.O. sorority, Community Service League of Alton, and was a board member of the Family Planning & Visiting Nurses Association. Grace was an avid bridge player and a faithful fan of the St. Louis Cardinals. She was a voracious reader and devoted considerable time to studying and documenting her family's genealogy leading to her membership in the D.A.R. She was a dedicated member of First Presbyterian Church in Alton, IL as she was a faithful servant of the Lord.
Her beautiful life will be forever cherished by her family: Douglas Summers and wife Tricia of Eden Prairie, MN, Ellen Summers Mullarkey and husband Tim of Newtown, PA: her brother Harold "Bud" Qualkinbush and wife Ilene of Greenwood, IN; her grandchildren Bill Summers, wife Rosa, and great grandson Wesley Summers, Kate Summers, all of Eden Prairie, MN, Grace Mullarkey, Elizabeth Mullarkey of Newtown, PA; in-laws, Bonny Meyer of Laguna Hills, CA, and Charlie and Pat Summers of Kewanee, IL; loving nieces, nephews, and cousins. She was preceded in death by her loving husband, Billy Ray Summers.
Visitation was from 10-11 a.m. Saturday, October 22, 2016, at First Presbyterian Church at the corner of Fourth & Alby Streets in Alton, IL. The memorial service followed at 11 a.m.. and was officiated by Reverend David J. Crowley. Burial was at Alton City Cemetery near the base of the Elijah P. Lovejoy Monument.
In lieu of flowers, memorials may be made to First Presbyterian Church, Alton, IL.